WHAT IS HALO-THERAPY?
The word halo-therapy comes from the Greek word, halo, which means salt. This effect is achieved with the use of a special device – a Halo-Generator. The halo-generator produces an active dry salt aerosol which is then dispersed into our rooms via a fan process. Dry salt aerosol concentration is controlled using optoelectronic sensor within the room to maintain ideal conditions. At least 80% of the aerosolized salt particles dispersed measures less than 5 microns allowing for effortless absorption. This creates salty environment to enjoy. It's a perfect way to soothe the body, mind and spirit while utilizing of halotherapy.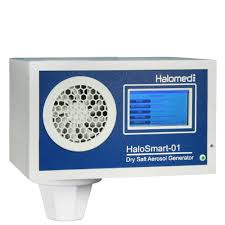 HALO – GENERATOR
Halotherapy is an alternative treatment that involves breathing salty air. Halotherapy is recognized as a safe and effective wellness practice for preventive and restorative health care. It is not a medical treatment and does not offer a cure!
 Halotherapy is very beneficial for overall wellness.
You may book individual massages, Reiki, Reflexology & Facial appointments in our Salt Room with halo-therapy included!