WHAT IS HALO-THERAPY?
The word halo-therapy comes from the Greek word, halo, which means salt. This effect is achieved with the use of a special device – a Halo-Generator. The halo-generator produces an active dry salt aerosol which is then dispersed into our rooms via a fan process. Dry salt aerosol concentration is controlled using optoelectronic sensor within the room to maintain ideal conditions. At least 80% of the aerosolized salt particles dispersed measures less than 5 microns allowing for effortless absorption.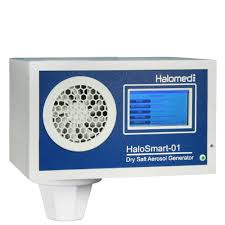 HALO – GENERATOR
Halotherapy is an alternative treatment that involves breathing salty air. Halotherapy is recognized as a safe and effective wellness practice for preventive and restorative health care. It is not a medical treatment and does not offer a cure! Halotherapy is very beneficial for overall wellness by removing the toxicity from the respiratory system, improving the function and appearance of the skin, and boosting the immune system.
For general respiratory hygiene, once or twice a week visiting your local salt therapy facility may enhance the lung capacity, may boost the immune system, may reduce stress, and aid better sleep. A majority of people who include Halotherapy in their wellness routine may find relief from a variety of respiratory conditions such as: Asthma, Allergies, Common cold, Bronchitis, COPD, Cystic fibrosis, Sinusitis, Ear infections, Smokers cough. Regular and consistent dry salt therapy may help people with the following various skin conditions: Psoriasis, Itching, Eczema, Swelling & Inflammation, Dermatitis, Dry & Flaky Skin, Acne, Rashes, Skin Aging.
You may book individual massages, Reiki, Reflexology & Facial appointments in our Salt Room with halo-therapy included!