We are closed Mondays! We apologize for the inconvenience!
Temporary reduced hours!
Monday – closed
Tuesday – 10am-5pm
Wednesday – 2.30pm – 5pm
Thursday – 2.30pm – 5pm
Friday – 10am-5pm
Saturday – 10am – 5pm
WE ARE HIRING!
Join our Team! – Positions available:
Registered Massage Therapist (R.M.T.)
Osteopath
Send your resume to [email protected]!
WORKSHOPS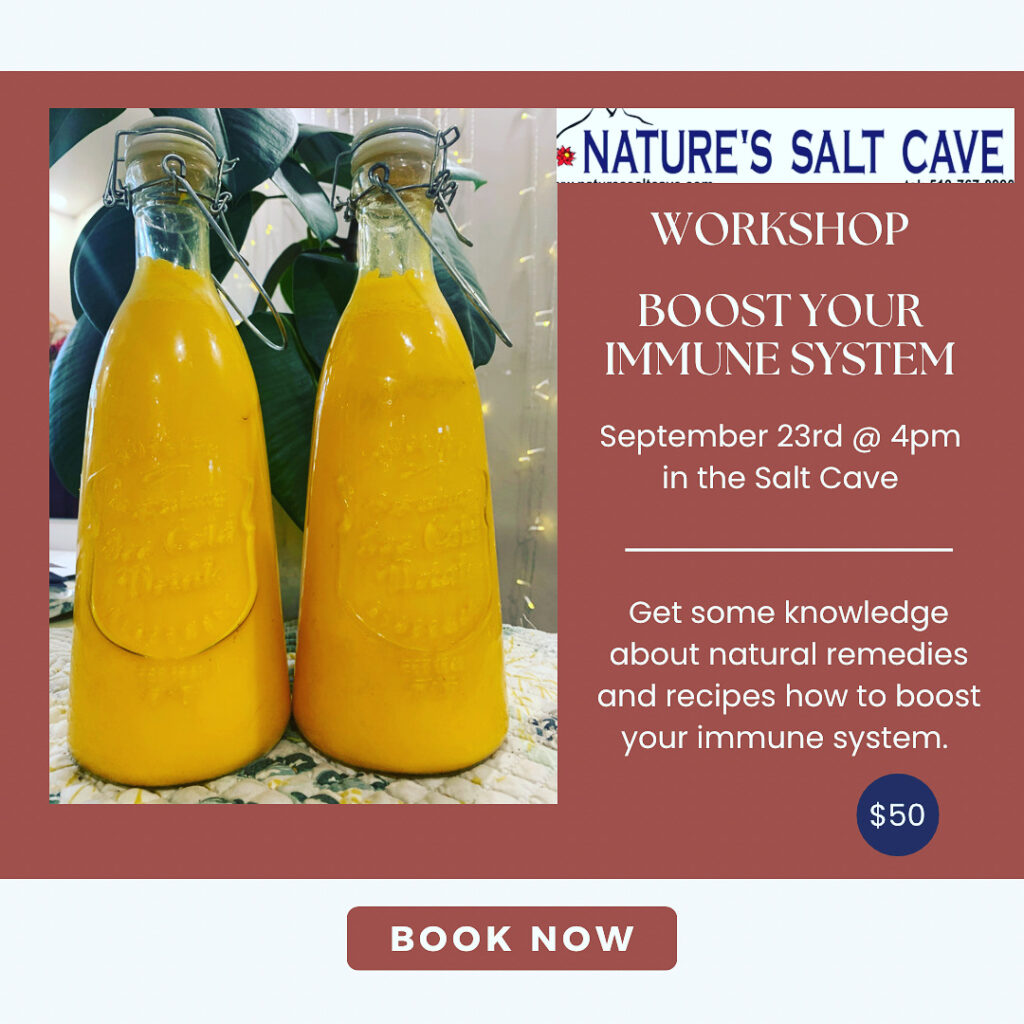 Limited seats- $50 per person (pay ahead to hold your spot)
Spiritual Day in Salt Cave
Coming soon!
10am – 50min Hatha Yoga (Group session. Bring your Mat)
11am – 30min Guided meditation (Group session)
11.30am – 30min Sound Bath (Group session)
12pm –30min Intuitive& Oracle card Reading (Group session)
12.30pm – 50min Reiki session with two Masters (Group session. Each person will receive Reiki energy Chakras cleansing)
1.20pm –40min Herbal tea ceremony with the snacks
Join us to Heal your Mind, Body & Spirit with Two Spiritual and Holistic Masters.
This workshop for those who wants to meet beautiful Souls, to connect with divine energies, to open up, release emotions & TO FEEL SPIRITUAL AWAKENING.
Limited seats- $270 per person (pay ahead to hold your spot)
Call 519-767-0990 or email [email protected]
Reiki Energy Level 1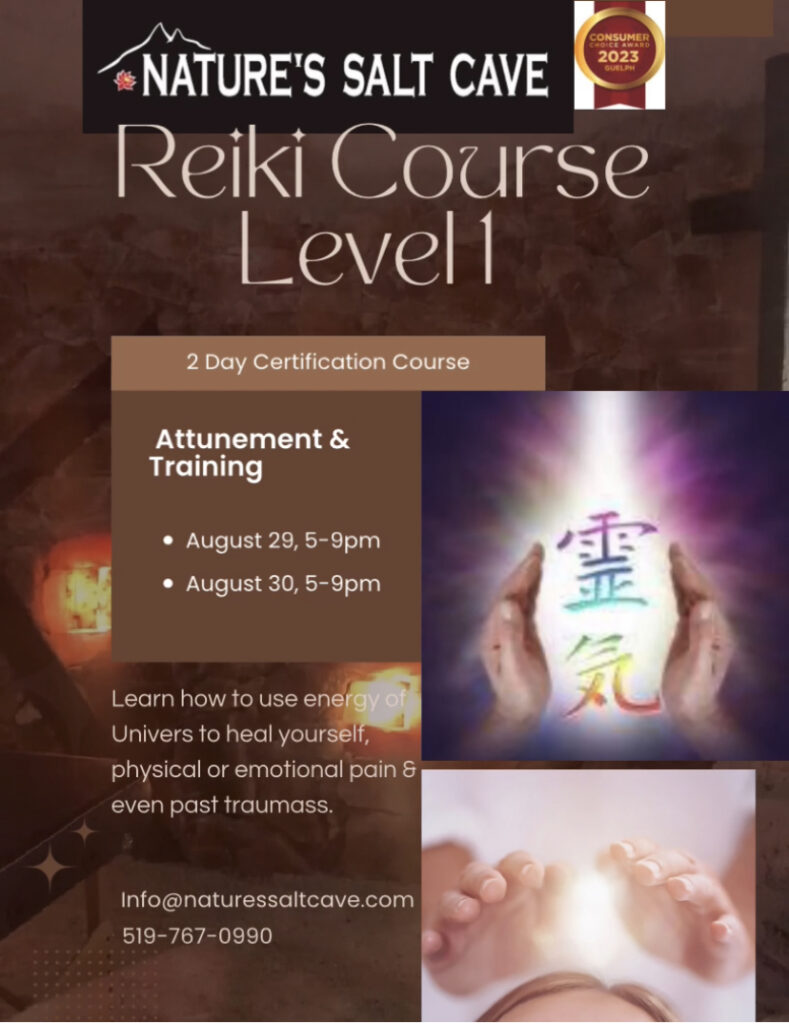 Two DAY CERTIFICATION COURSE in the Nature's Salt Cave (inside the cave)
About The Course: Level 1 Reiki training is open to anyone and will open the energy Channels in the body. This allows the practitioner to connect to the Universal Life Force Energy we call Reiki. Reiki is generated from a unlimited source external of the practitioner and flows from the Universe to the top of the head, and down to the heart and hands. The opening of these energy Channels is called an "Attunement". After the attunement, many experience physical sensations of energy in their palms and elsewhere. When attending a Reiki course, the participant gets attuned by a Reiki master through a simple process that opens him to receive and utilize more of the Universal Life Energy, or Rei-Ki. The attunements have a very powerful balancing and healing effect on those that receive them. The attunement is not a healing session, it creates the healer.
You will learn about the history of Reiki and how it began. Emphasis of the Level 1 designation will encourage students to focus on practicing Reiki on themselves, thereby working through their own obstacles. We will also learn how to apply healing treatments to others as professional practitioner. Reiki has no belief or religious system therefore it can be learned and practiced by everyone. You will have a lifetime access to this information, as your Reiki Masters: Angela Churchill & Ingrida Kania, we are here to support you on your Reiki Journey throughout this course and beyond.
Certification Includes: Origins & Science of Reiki, Introduction To The Chakra System, Self-Healing Technique, Practice Technique To Heal Others, Introduction to Aura Reading, Intuition & Her Types, Meditations, Technique to Open Third Eye.
Tuition Fees: registration required full payment of $550 for early bird before …. or $650 at the course day.
Please note, there are very limited seats. Call to register 519-767-0990 or email: [email protected]
HEAL YOUR MIND, BODY & SPIRIT
Snacks provided.
September PROMOTIONS:
Buy 1 & get 2nd 50% OFF for all salt products!
Individual:
60min Relaxing Massage in Salt Cave + 45 min Sauna – $160
30min Face hot stone massage in Salt Cave + Pedi – $125
Buy 7x50min Salt Cave Inhalation Sessions & Get 4 FREE!)
50min Salt cave inhalation + 50min Vibro-Acoustic therapy + 45min Sauna session – $115
Back to school discount for kids, teens (up to18y.o): 60min Relaxing Massage with Aesthetician in Salt Room with Halo-therapy -$95
For Couples (2 people – partners, friends, siblings, etc.!):
Aroma-Calming Massage in Salt Cave + 45min Sauna Session – $350
50min Salt Cave inhalation + 45min Sauna – $135
30min Head massage in Salt Cave + Pedi – $260
45min Sauna +30min Face hot stone massage in Salt Cave + Pedi – $330
*Prices include both people
Gift bundles:
Himalayan bath salt + Himalayan salt massage stone (Heart) + salt candle -$15
Fresh cut LAVENDER is available now –$12.99 (small bunch) or $25 (big bunch) while supplies last
NEW! 60 min RMT massage including Cupping therapy — Cupping improves circulation, loosens the fascia/connective tissue, breaks down scar tissue and adhesions, and stimulates the body's healing process! You'll have "cup kisses" for a few weeks and you will feel rejuvenated! Cupping, along with massages an amazing combo! Both help with relaxation, increasing blood flow and range of motion! Salt Room – $160 / Salt Cave – $175 / Couple in Salt Cave – $340 (Temporary Not Available)
NEW!: 60min Hydrating facial – Wipe stress from your face! (Includes face, neck, head, and shoulder massage!) – Salt Room – $160 / Salt Cave – $175 / Couple in Salt Cave – $340
Products:
We have plenty of new items available in our gift shop for you to choose from including new crystals, handmade crystal jewelry (some are Reiki-infused!), Himalayan salt lamps, paintings, gift bundles, Chakra Cleansing & Balancing tea, essential oils, and more! You do not need an appointment to stop by the gift shop, although you are always welcome to book one!
All Amber crystal paintings are now 50% OFF!
GIFT CERTIFICATES AVAILABLE in store or you can order by phone or email! Physical copies are given in person, scanned copies are emailed to you if purchased over phone/email. You may purchase a service(s) or an open amount for your loved one to use for anything they would like!
For more updates on Nature's Salt Cave, follow our Instagram and Facebook! @ naturessaltcave